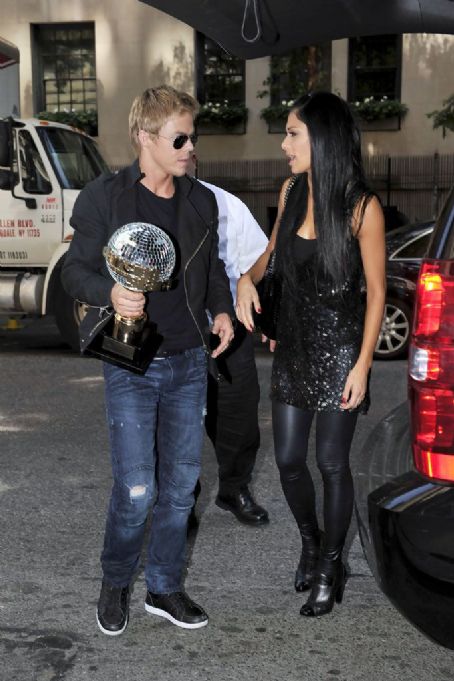 She's blogging for UsMagazine. I didn't get bangs just for my samba on Monday night's Dancing With the Stars.
They clipped these puppies in here! Before they were on DWTS! I pulled my neck in the samba. I'm a little… Derek and I worked really hard, and really harder than we ever worked before with our samba and swing this week, but it's paid off.
Everyone's in it to win it, and that's why you put so much work and dedication to it. I just want to make sure that I'm enjoying it. I don't want to get too much into my head. I had so much fun. I really had fun. Who's heated up off the dance floor? I always feel like I'm rehearsing. But you've got to let go and trust and enjoy! Not work too much like we would tend to do. When I sing, I don't think — I just connect with other people.
And just now with dancing, I'm finally stepping out of myself and performing for everyone else. I'm a real perfectionist. Derek sometimes gets frustrated, and it can hinder me sometimes. It's probably my biggest disadvantage. But as long as I can go out there, trust in the work and just have fun — that's what matters. As the season goes on, it's hard to see people go. I dread the results show!
Derek and I could go home. Or a friend could go home and I hate to see that. Look back at Kate Gosselin's disastrous dancing days I always agree with Len [Goodman], who I think has been fairly hard on us all along.
I think these judges are there for a reason and I really believe what they say. When Carrie Ann [Inaba] says I make scary faces, she's right!
I make some scary a— faces! I think the Hawaiian in me comes out in fierce mode. It's a Hawaiian Pussycat Doll mode!
I don't realize I'm doing it. Want stories like these delivered straight to your phone? Download the Us Weekly iPhone app now!