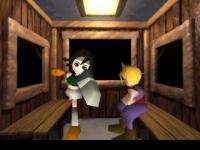 I know there's a lot of guides out there to help you along with getting this trophy, but none are specific enough to my tastes so I made one real time for you all. If anyone can confirm my questionable Optional? If you'd like to see how this all works, check out this wikia to see exactly how each option affects you and by how much.
The goal is to finish all the events below putting Barret in the lead. Aeris 50 Yuffie 10 Barret 0 Anything that says Optional requires you to do something to initiate the dialogue that is not story related. If you see something that does not say Optional as the next step you can rest easy and wait for it to come to you. Talk to her again. Push the top most barrel.
At Aeris' house, walk upstairs to see Barret. This is not required, though Yuffie is tough to be the chosen date so this decision will not throw you off. In fact, picking up Yuffie makes it slightly easier to date Barret. Select 'Wait a sec' Then select 'Beautiful, just beautiful!
Immediately after, talk to Aeris meandering in a soldiers outfit Select 'I dunno After ascending the stairs, climb the nearby ladder to find Tifa also in a soldiers outfit Select 'I don't know' -2 Tifa After Barret jumps into Wonder Square to get away from the party, talk to Yuffie. This event is the one benefit to having Yuffie in your party thanks to vZA87 for this information. Optional Before entering Gongaga town ensure your party consists of Aeris and Tifa. After entering the southern most home you'll meet Zack's parents.
Upon leaving the building Aeris and Tifa will be standing outside. Do not speak to either. The third character does not matter. Follow him into the weapons shop afterwards. Go up the stairs and through the cavern door straight ahead, there you will find Barret. Here are the final point values after making every decision above exactly, assuming Yuffie was in the party.
Aeris 29 Yuffie 19 Barret 53 Barret is decimating the competition and wants Cloud bad at this point. After getting the additions of the 'Tiny Bronco' and 'Cid', you are able to visit Wutai, but let's hold off on that and go straight to the gold saucer to make sure we get this trophy.
Head to North Corel and into the Gold Saucer. After retrieving the Keystone from Battle Square, try to leave. This will Initiate the date sequence. If Barret pulls you out of your room, you probably did something right you will receive your trophy after reaching the main area with Barret.