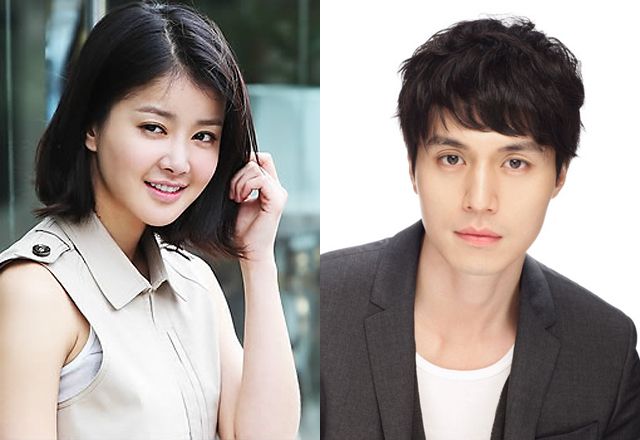 The greatest sports rivalries in history spawn the best fan wars, which begets the central conceit of Wild Romance. What if a die hard fan of one team were to become the bodyguard for the star player of the rival team? Who just singlehandedly ensured your team lost the most recent championship game.
I watched episode 1 of WR today and thoroughly enjoyed it. It was deftly presented and at times hilariously sidesplitting. The drama has shades of a buddy story blended with a rom-com, in which two characters who loathe each other are forced to spend time together, potentially resolve some matters, and in the rom-com way, eventually fall in love. It wants to tell a specific story in a unique way, and succeeds so far in doing so.
If anyone is even remotely a fan of either actor, this drama is worth watching for them alone. Their comic timing is delightful and impeccable, plus they have fabulous chemistry that goes beyond the sexual or romantic genre. The drama starts off with a viral video unleashed on Korea which shows ace baseball player Park Moo Yul of the Red Dragons getting back flipped by a girl who we see is Yoo Eun Jae.
When confronted by their respective handlers, Moo Yul by his manager and Eun Jae by her boss at the bodyguard agency, both confess it was a random run in at the local noraebang. Turns out Eun Jae, plus her father and brother, are die hard true blue fans of the baseball team Blue Seagulls. It also turns out that the Blue Seagulls recently lost the baseball championship to the Red Dreamers, mostly on account of Moo Yul tossing a bat at the pitcher and starting a dug out clearing brawl that ends with both Moo Yul and that pitcher getting tossed.
Ergo the Blue Seagulls lose the game without their star pitcher. The video is recorded by the noraebang guy and posted online immediately. They concoct a story that a crazed anti-fan is out to get Moo Yul, so a bodyguard was hired to protect him. And said bodyguard happened to be teaching him fighting techniques at the noraebang that night.
The media reluctantly buys into this hogwash explanation. Poor Eun Jae is forced to guard Moo Yul otherwise her bodyguard agency might go under for the lack of clients if the world knew she beat someone up. Both end up doing things that exacerbate their already volatile relationship. Score one for Moo Yul.
Score one for Eun Jae, though minus one for intentionally shirking her bodyguard duties. The directing is very solid and fun, with lots of quick cuts and fluid camera angles. I enjoy how the PD splices scenes together so there are very few track shots but the quick cuts are not jarring and instead feel energetic.
There are times the directing reminds me of the work done when a drama is a manga adaptation, with a bit of exaggeration and more cuteness than realism. The final scene in episode 1 has Eun Jae and Moo Yul at an online chat room at their respective computers. Their words literally go flying at each other, and both of them use their hands, feet, and head to slap and kick those verbal jabs away.
It was splendidly entertaining. Even moreso when online Eun Jae calls Moo Yul the same crass phrase she uses to refer to him, which alerts Moo Yul as to the identity of his online opponent. What I enjoyed about episode 1 is how strong Eun Jae is, both physically and mentally. She takes as good as she gives with Moo Yul, never one being missish or falling on her gender as a crutch.
That works for me! Honestly, the two leads are great in their respective roles and even better when they have scenes together. The supporting cast is just alright, and none of the other characters stand out at all. Not even Oh Man Seok. There is a hint that the fabricated anti-fan story might actually be the truth, so Eun Jae guarding Moo Yul might ending up being necessary rather than to salvage his reputation. Rather like the possibility inherent in Spy Myung Wol before that drama went to the wolves.
I suppose the drama can drum up believable emotional angst later down the line. Same goes with Moo Yul, who I want to see grow some empathy and maturity, but not have a complete personality transplant and become some do-gooder.