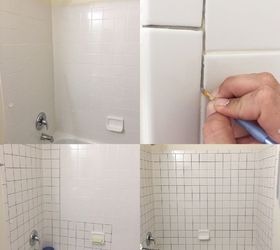 We currently have 1 full and one half-bath, so both get plenty of use by our family of 5. Since we moved into our home 7 years ago my style has changed just a little bit Read: I actually figured out what style I love the most. Before it was always a little bit of absolutely everything.
And first off is this half-bath. Basically, all surfaces, minus the countertop and toilet, are receiving a coat of paint. And first up is the tile backsplash. I took it from a shiny glass backsplash to a matte white finish.
To paint your tile you will need a few basic supplies. I used a solution for removing the gloss , painters tape , a strong primer , paint brush and mini sized paint roller. If you have glossy tiles you can apply Krud Kutter to reduce the glossy finish and help the paint adhere. Follow the directions on the bottle to complete this step. The image below is after the first coat of paint. Apply the first coat with a paint brush, making sure to get into any cracks and corners.
After the first coat of paint is dry you can continue to apply coats of paint with a small roller until it is completely covered. I needed 4 coats of paint to have a solid finish.
This tile does not come in contact with much water, so for the time being there is no sealant on top. I love the simplicity of the final result, a matte white tile. It gives the tiny and windowless bathroom a bright look. It will definitely have a modern farmhouse vibe in the end. You can pick up the needed supplies for the project here. Wishing you the best, xo.