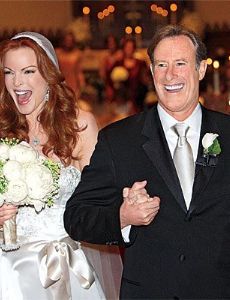 Sep 17 , Neither Marcia Cross nor anyone who works with her has ever been in contact with The Advocate about coming out in these pages. Reports to the contrary are completely false. Gossip about Hollywood and political players regularly screams out from the supermarket tabloids, and entire Web sites are devoted to outing allegedly closeted celebrities and elected officials. The Advocate has weathered countless invented tales of celebrities coming out on its cover, from Debbie Reynolds to Jonathan Taylor Thomas.
But until now such innuendos have always been under the radar, blips considered major only by hard-core media junkies. Ordinarily, the rumor would have been confined to cyberspace speculations. This time, not so. And this is a problem. When is the story running? All this from an unidentified source on an Internet message board.
Yet, amazingly, the first phone call DataLounge says it received to confirm the posting and ask who was behind it was from The Advocate, for this story. Pritzkat estimates that 30, to 40, regular users frequent the forums every month, most of them anonymous and most of them game for the game. But no one was paying attention. The Cross thread, however, gained serious traction, and by Monday, February 7, the rumor had snowballed into a juggernaut.
Yet Americans of all stripes are unified in their adoration of the racy ABC prime-time soap—masterminded, as it happens, by gay Republican Marc Cherry. Not since the peak seasons of Friends has a network TV show captured the zeitgeist so thoroughly. Kimberly on Melrose Place. While Rosie and Melissa settle nicely into what our culture assumes to be the typical gay woman, the notion that beautiful, feminine, Stepford-worthy Bree might be embodied by a closeted actress was, it seems, just too steamy to ignore.
Cynthia Nixon—another redhead from a sexually adventurous watercooler show—revealed a real-life same-sex relationship just months earlier.
How conflicted is our culture? But when those rumors make it on CNN…whoa, hold up! Little wonder that coming out is such a rare thing. Gay, straight, mixed, liquid. Well before the coming-out rumor, Cross was no stranger to gays and lesbians, having appeared alone or with the other Housewives at galas and fund-raisers to support AIDS and gay causes.
Nor is she unfamiliar with the world of gossip. Brad and Jen denied it. And the media went with it anyway, with the denial. As it turns out, there was truth to be found in the first half of the DataLounge post. The rumor that a fictional character was coming out at the same time as a real-life cast member may also have sparked media memories of the biggest coming-out ever: That story was so huge, and the parallels to the Housewives rumor so striking, perhaps the pattern was enough to hook in some reporters eager to make gay ink on an even bigger show.
For one, buzz that a character on the show was coming out had been building for months, so the Spy was confirming what many media watchers thought they knew was all but certain. Not only could the flap guarantee better ratings, it might soften the blow of a gay reveal for Housewives fans who might view that plot thread—a pot-smoking, amoral gay teenager—as transgressing a bit too far. But if the plot was hatched at Disney-owned ABC, either not everyone was on board or it was a massive conspiracy with some really convincing role-playing: A high-ranking openly gay executive at the network telephoned The Advocate—twice—to be reassured that no Cross coming-out story was planned, as did frantic handlers who work closely with Cross herself.
So who is responsible? Like Tom Cruise and Richard Gere before her, she will always be thought of by many as someone who felt compelled to deny being gay. Which is, ultimately, the catch that sticks in the craw. To be openly gay is to embrace the whole truth of oneself in spite of a sometimes hostile culture.